HCE Public Education Series | Session 2: Innovations in Waste Heat Recovery | January 27, 9-11 am | Online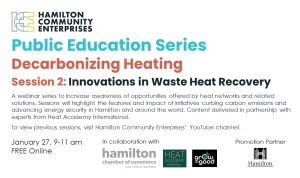 Register now for a FREE online seminar delivered by leaders in next-generation district energy systems and focused on:
The growing value of industrial waste heat in combating climate change and providing energy security
Examples of industrial waste heat as a low carbon fuel source for community-scale district energy systems
Proven practices in how to build, operate and maintain such systems ~ including effective business models
SPECIAL FEATURE: The session will include an update on a proposed study to determine the viability of industrial waste heat networks in Hamilton.
Guest presenters from Heat Academy International, McMaster University, Rathco ENG, and Hamilton Community Enterprises.
Thursday January 27, 9-11 am
FREE Online
Click HERE to Register 
This educational series is an initiative of Hamilton Community Enterprises presented in collaboration with the Hamilton Chamber of Commerce, Heat Academy International, and Grow the Good.
A special thanks to the City of Hamilton for providing valuable promotional support.