"Hands on Hamilton: Our Air Quality"
Monday, March 5, 2018
2018 Upwind Downwind Agenda
Click here to view the agenda in PDF
Time
Presentations

8:00AM–8:30AM

Hot Breakfast
8:30AM–8:45AM

Welcome Remarks

·Dr. Bruce Newbold, Chair of Clean Air Hamilton, Director Geography and Earth Science, McMaster University

·Mayor Fred Eisenberger, Mayor of Hamilton (invited)

8:45AM–9:45AM

Hamilton's Airshed Model – Morning Keynote

·Anthony Ciccone, Ph.D., P.Eng., Principal, Golder Associates Limited

·Janya Kelly, B.Sc (Hons), Ph.D.,  Air Quality Specialist, Golder Associates Limited

9:45AM-10:15AM

Region of Peel's Airshed Model

·Louise Aubin, Manager, Environmental Health, Public Health, Health Services Region of Peel

·        

10:15AM–10:30AM
Coffee & Exhibitor Break
10:30AM–11:15AM

MOECC Cumulative Emissions Modeling

·Local Air Quality Permits Section, Environmental Assessment and Permissions Branch, Environmental Assessment and Permissions Division, Ministry of the Environment and Climate Change

11:15AM–12:00PM

Environmental Burden of Cancer

Public Health Ontario, Dr. Ray Copes

·Dr. Ray Copes, Chief, Environmental and Occupational Health, Associate Professor, Occupational and Environmental Health, Dalla Lana School of Public Health, University of Toronto, Clinical Professor, School of Population and Public Health, University of British Columbia

12:00PM–1:00PM

Lunch & Exhibitor Break

1:00PM–1:30PM

Children's Exposure to Air Pollutants at Schools During Morning Drop-Off

·Dr. Matthew Adams, Assistant Professor, Department of Geography, University of Toronto Mississauga

1:30PM–2:00PM

Sarnia – Lambton Environmental Association's (SLEA) Air Quality Work

·Mr. Dean Edwardson, General Manager, Sarnia – Lambton Environmental Association

2:00PM-2:15PM
Coffee & Exhibitor Break
2:15PM–3:15PM

Innovative Approaches to Regulation – Afternoon Keynote

Link to Dr. Webb's Biography

·Dr. K Webb, LL.B., LL.M., LL.D, Associate Professor, Department of Law and Business, Ted Rogers School of Management, Founding Director, Institute for the Study of Corporate Social Responsibility Ryerson University Visiting Scholar, Massey College at University of Toronto

 3:15PM–3:45PM

Upwind Downwind Panel Discussion

·Moderator: Sally Radisic, PhD, Health Hazards Specialist, Hamilton Public Health Services, Assistant Professor (Part-Time), Health Research Methods, Evidence and Impact (HEI), McMaster University

·Panelists include all previous presenters that will discuss topics regarding emerging trends and challenges in air quality and how to effectively address those challenges. Presenters will also be taking questions from the audience.

3:45PM–3:50PM

Announcement of Winner for Student Competition

·Student posters will be announced in February 2018 and on a continual basis as they are received

3:50PM–4:00PM

Closing Remarks and Wrap-Up

4:00PM–5:00PM

Exhibitor Booth Networking Event
Click here to view the agenda in PDF
$500.00 Student Competition
Clean Air Hamilton is calling ALL students interested in air quality to submit a poster presentation to answer the following question:
"What interventions and/or strategies could be applied to address/improve air quality issues or concerns in an urban built environment".
The winning student(s) will receive a $500.00 cash scholarship. Students submitting presentations will receive FREE ADMISSION to the conference and opportunity to network with leading professionals in the environmental sector including engineering, public health, planning, academia, industry and not-for-profit. Students do not have to be studying air quality to submit posters. Interested students should email cleanair@hamilton.ca ASAP!
Location: Sheraton Hotel, 116 King St W, Hamilton, ON L8P 4V3
How to travel to the conference
Sheraton Hotel, 116 King St W, Hamilton, ON L8P 4V3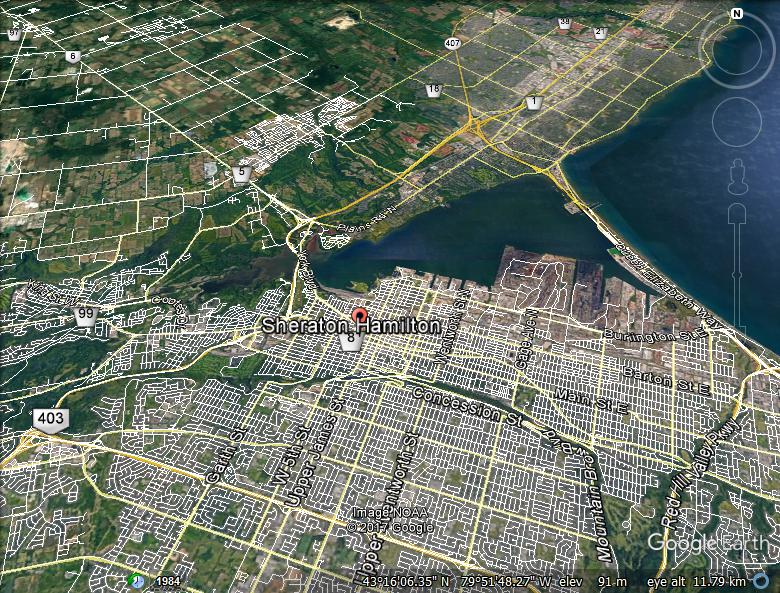 Click
here
if you wish to use the 2018 Upwind Downwind Conference group block rate at the Sheraton Hotel.  Reservations can also be made by contacting the 24 hour, toll-free reservations line at
1-888-627-8161
and asking for the '2018 Upwind Downwind Conference' group block.  The group block rate will be available until
February 9th
at 5:00pm
Map of SoBi Bicycle Hubs