Dubai International Award for Best Environmental Practices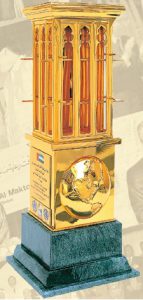 The 2000 Dubai International Award for Best Practices to Improve the Living Environment recognized the Hamilton-Wentworth Air Quality Initiative, now Clean Air Hamilton, and VISION 2020 as one of the top 10 strategies from around the world for improving a community's environment, economy, society and overall quality of life. A key consideration in winning this biennial award is that the initiatives rely on partnerships between the public, private and civic sectors of society. Dubai International Award for Best Practices
Hamilton-Wentworth, which became the New City of Hamilton on January 1, 2001, was one of nine finalists, each of whom received a $30,000 (US) prize, out of a total of 760 submissions from more than 100 countries.
Award of Planning Excellence – Grassroots Initiative Award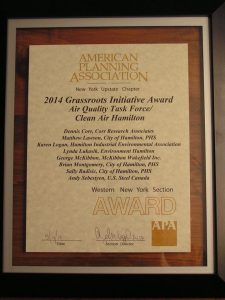 In 2014, Clean Air Hamilton's Air Quality Task Force (AQTF) Action Plan was awarded the 2014 Grassroots Initiative Award
by the American Planning Association New York Upstate Chapter Western New York Section.
The award honors an initiative that illustrates how a neighborhood, community group or other local non-governmental entity utilized the planning process to address a specific need or issue within the community. In the case of Hamilton, the AQTF Action Plan makes recommendations on "actions that can be taken by the City to reduce air pollution in Hamilton". with recommendations in the areas of air modelling and monitoring, planning, education and outreach, green infrastructure, and updating of municipal by-laws aimed at decreasing particulate matter in the environment.