Award of Planning Excellence – Grassroots Initiative Award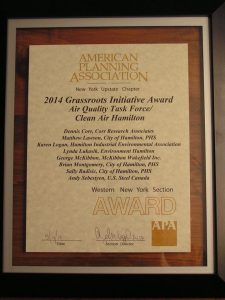 In 2014, Clean Air Hamilton's Air Quality Task Force (AQTF) Action Plan was awarded the 2014 Grassroots Initiative Award
by the American Planning Association New York Upstate Chapter Western New York Section.
The award honors an initiative that illustrates how a neighborhood, community group or other local non-governmental entity utilized the planning process to address a specific need or issue within the community. In the case of Hamilton, the AQTF Action Plan makes recommendations on "actions that can be taken by the City to reduce air pollution in Hamilton". with recommendations in the areas of air modelling and monitoring, planning, education and outreach, green infrastructure, and updating of municipal by-laws aimed at decreasing particulate matter in the environment.